Krzystof Penderecki (1933), Passio et mors Domini nostri Jesu Christi secundam Lucam | Franzsika Hirzel,Francois Le Roux,Jean-Philippe Courtis,Manfred Jung, WDR Rundfunkchor, Mainzer Domchor, Orchester der Beethovenhalle, Marc Soustrot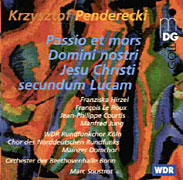 Krzysztof Penderecki (*1933)
Passio et mors Domini nostri Jesu Christi secundum Lucam (1965/66)
Franziska Hirzel, Soprano
François Le Roux, Baritone
Jean-Philippe Courtis, Bass
Manfred Jung, Recitation
WDR Rundfunkchor KölnChor des Norddeutschen RundfunksMainzer Domchor
Orchester der Beethovenhalle Bonn
Marc Soustrot, Conductor

One departure from the Bach, in which the Evangelist (a tenor) tells the story in recitative, has the narration spoken by the famed singer-turned speaker, Manfred Jung. The other featured soloists are first-rate—soprano Franziska Hirzel, baritone Francois Le Roux, and bass Jean-Philippe Courtis. Also noteworthy are the excellent choirs of Norddeutschen Rundfunks and Mainzer Dom along with the fine Orchester der Beethovenhalle Bonn under the defining direction of Marc Soustrot.
classicalcdreview K.S.
Amazon